Is this where your shrink wrap ends up in the spring?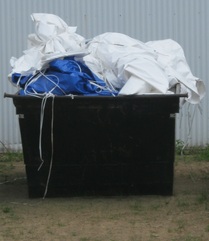 It doesn't have to if you're a
Bergie's Mobile Shrink Wrap
Customer!
All my tops come with free spring drop-off recycling!
*

Tops must be bundled according to the following instructions
No Exceptions!
Tops abandon where they lay, or left in a heap to collect water, dirt, etc., do not meet the recyclers material spec., and will not be accepted!
TOP RECYCLING INSTRUCTIONS
1) Cut top loose from boat at the bow, stern, and under the boat
*cut rope/strapping and top loose at the bow and stern eyes
**please, keep top in one peice

2) Pull bottom sides loose around the boat and pull cover off
*don't be afraid to cut the top corners more to loosen from boat
3) Lay top out flat, fold in half (side to side), twice, and roll into a bundle
*use a piece of the rope/strapping to secure the bundle for easiest handling
** Please, keep top bundle out of the weather, tops full of mud and debris can't be recycled

***Please, help me keep your costs down, and recycle your poles, too!
It's as easy, or easier than hauling it to the trash!

Recycling with no:

-Cleaning the Top
-Removal of Rope, Strapping, or Vents
-Stuffing the Top into a Shipping Bag -Recycling Bag Up-Charge (more plastic)

Please!
do not cut the tops up into smaller pieces, they can not be baled for recycling